Integrating ParOne and Frame.io for Streamlined Video Asset Management
---
TazNakonecznyj

June 27, 2023
ParOne recently launched an integration with Frame.io, connecting their video production management platform with our Video Content Management System. The integration creates a seamless uni-directional workflow, allowing video teams to quickly sync content from Frame.io to ParOne. Previously, users had to download files to their own machines and then re-upload the files to ParOne's systems wasting time that can be spent elsewhere.
With the ParOne and Frame.io integration, video teams can:
Send videos from Frame.io to ParOne with a single click via Custom Actions. Videos and associated metadata are automatically transferred to the user's organization within ParOne.
Upload Frame.io Presentations via our normal Add Video process.
Replace existing videos with newer versions. Frame.io users can simply use a share link to replace a ParOne video.
The integration saves significant time wasted on downloading and uploading video assets between the two systems by connecting them directly. Transfers from Frame.io to ParOne finish in mere seconds and are not dependent on users staying connected. Kick off the uploads and go play a short round without worrying about the upload progress bar.
Using Presentation Links
The Frame.io tab is now available when uploading a video. Simply paste the share link of a video into the box (typically beginning with https://f.io) and hit the Import button. Users can use this method to both create new videos and to replace existing video content.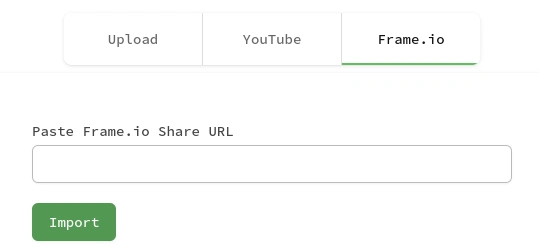 Using Custom Actions
Frame.io supports the creation of custom actions that enable users to right click on media assets and send them straight to ParOne from inside Frame.io. This method is only available for creating a video.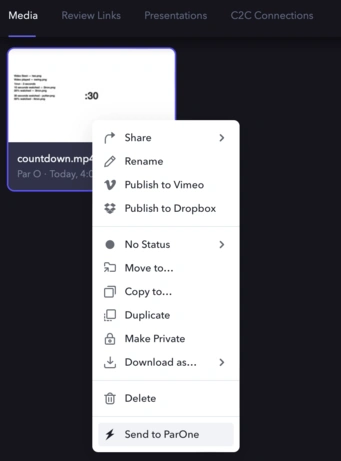 This will display a pop-up that allows users to add some initial information about the video before sending it off to ParOne's systems.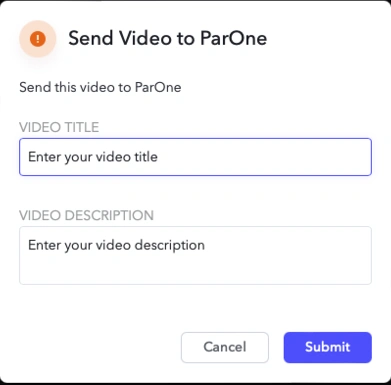 For technical details on setting up the ParOne and Frame.io integration, please see our support documentation.